The Sheep-Pig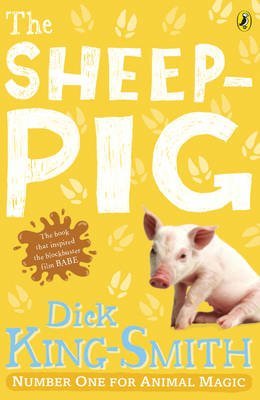 by
Dick King-Smith
Illustrated by Mike Terry
Reading Age: 7+
Interest level: 6+
by
Dick King-Smith
Illustrated by Mike Terry
When Farmer Hogget wins a piglet at the fair, he is amazed that Fly, his sheep-dog, welcomes him as one of her own pups. Fly names the piglet Babe and teaches him all he needs to know about the farm and its animals.
As he watches his 'mum' round up the sheep, he decides he would love to try too. However, his legs are too short and he is far too plump to run around after a flock of sheep. He then tries a different tactic; politely asking the sheep to form an orderly line! The sheep are so surprised to be treated with respect that they happily oblige and Farmer Hogget soon notices that Babe has a certain knack with them...
One of Dick King-Smith's best-loved tales, this wonderful book is full of gentle humour. The short chapters make it ideal for early confident readers, and it will be especially adored by young animal lovers.
Publisher: Penguin
More like this
What you thought
it was the story of wonders. the main character is the sheep pig that is easy to know that from the cover. it has helped me in reading and at our school it is rated as a silver star. that's amazing. i want to read more.
grace
56a harrington rd
13 September 2016
I think it is good to see all the books in one go and cant what to read them.
Abbi
sussex england
24 June 2015