The Tiger Who Came to Tea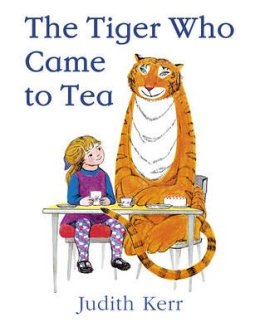 by Judith Kerr
Reading Age: 6+
Interest level: 2+
by Judith Kerr
Sophie and her Mummy are having tea in the kitchen when in walks a hungry tiger who asks to stay to tea. After eating everything, he moves on to Daddy's supper and for good measure also cleans out the fridge and drinks all the water from the tap.
When Daddy gets home he decides they should all have supper out and the next day Sophie and Mummy buy an extra big tin of tiger food - just in case the tiger comes back!
This delightful picture book from Judith Kerr is a true classic, with enduring appeal for children and parents alike. Kerr's vibrant, colourful illustrations and simple but charming story make this a perfect book to enjoy reading together.
Publisher: HarperCollins Children's Books
More like this
What you thought
My 15 year old daughter Grace loves this book and makes me read it to her every hour! Also I have a 16 year old daughter named Kimberly and she loves it even more! xxxx
Barb
kingsway
4 October 2016
I love it, it was one of my fav book when I was little, it always made me laugh
Zena
England
15 July 2016
I thought it was amazing, my 2 year old girl loves the tiger who came to tea and also my 1 month old too... thank you
linzi
hollywood
30 April 2016
I really like it and I have read it before and also I have the book!
Cazzie
england
30 November 2015
The tiger was very hungry and ate everything he could. I like to act out this book.
roar
Watford
14 July 2015