Private Peaceful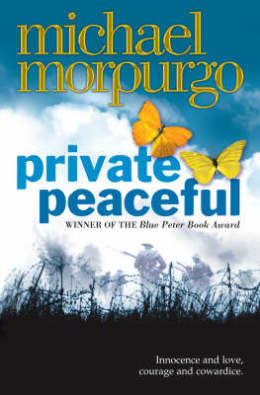 by Michael Morpurgo
Reading Age: 10+
Interest level: 9+
by Michael Morpurgo
Set during World War I, Private Peaceful charts eight hours in the life of Tommo, a young soldier at the Front, as he looks back over the formative events of his life: his father's early death, his relationship with his loving mother and brothers, Big Joe and Charlie, and their beloved schoolfriend Molly – all set among an evocative and beautifully realised rural landscape.
Passionate, beguiling and moving, this award-winning story is also an unflinching examination of the horrors of war and the injustice surrounding the execution of soldiers by firing squad, on the – often false – grounds of desertion or cowardice. Former Children's Laureate Michael Morpurgo uses all his superb storytelling skills to weave this powerful, poignant tale of the horrors of World War I, which will touch readers of all ages.
Publisher: HarperCollins
About the author
More like this
What you thought
Great book I love it Recommendation:8+
Aisha
Barnet
26 March 2017
Bob
London
2 December 2016
Myself and my mum read this book, it was an amazing book, very sad but thought provoking: I thought the book was really good, one problem is I can't take my eyes off it. Couldn't put it down. Hayden age 8
Hayden L
London
9 August 2016
best book i have ever read - great, incredible. No moment of the book is boring
private peacful
1 June 2016
This is a sad, moving book similar to Wonder and it can be sad, enchanting and more. This is a great book and I could not manage to release my grip on this book. It is a great and fun read good for readers who want a challenge. Michael morpurgo has written many books moving like this one.
Dylan2142waffle
Barby primary school
19 May 2016