The Curious Incident of the Dog in the Night-time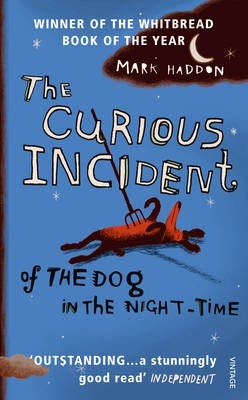 by Mark Haddon
Reading Age: 13+
Interest level: 13+
by Mark Haddon
Seen through the eyes of Christopher, a mathematical genius and Sherlock Holmes fan, who also has Asperger's syndrome, this bestselling novel opens with the discovery of a murdered dog on the neighbour's lawn.
In his search to discover the identity of the killer, Christopher uncovers some disturbing information about his own family, which throws his ordered world into chaos, and he embarks on a journey to London to find the mother he thought was dead.
This funny, touching and compelling novel was the winner of the inaugural Booktrust Teenage Prize. A must-read for adults and children alike, it is an adventure story unlike any other.
Publisher: Red Fox
More like this
What you thought
Incredible. You are trapped in the thoughts of another young boy who thinks up amazing things even with his condition! Breath taking!
Anonamous
Anonamous
29 November 2016
My favourite book- but too much bad words!
Bobby
manchester
10 May 2016
Great book I have read better but is an amazing eye opening story that i want to tell everyone to read. an other to read his counting by 7s, my favourite book of all time
After I read it and still now it seems a strange sort of book,something you wouldn't think about really and I guess it just made think was is it like. It seems a bit confusing and as it is from his point of view the journey he takes must seem confusing for him too. Its hard to explain but if I had to sum it up I'd say it makes you think how hard peoples lives are with disabilities , its not how every book is written and has more of a personal feel. so yeah good book
a girl
southwest, uk
28 September 2015
This book is truly amazing and it opened my eyes to the perspective and level of thinking of an autistic child. I will recommend this book to all 14 year olds.
anonymous
UK
28 March 2015