Polly Dunbar's Game of Consequences
Follow former Booktrust Writer in Residence Polly Dunbar's game of consequences with Emily Gravett, Petr Horacek, Alexis Deacon, Viviane Schwarz, Sarah McIntyre, Ed Vere, Bruce Ingman and Polly Dunar all adding their magic.

This lovely artwork has been donated to the wonderful Seven Stories museum in Newcastle.
About Polly Dunbar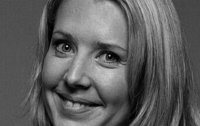 Polly Dunbar studied illustration at Brighton Art School and now lives and works in London. Author and illustrator of Penguin, Dog Blue and Flyaway Katie, she thinks that colour is a brilliant way to cheer yourself up and whenever she's feeling grey, she puts on her best pink frock and paints! Polly is the daughter of the distinguished author Joyce Dunbar who she collaborated with on the picture book Shoe Baby. She is also the illustrator of My Dad's a Birdman, written by David Almond, and Here's a Little Poem, an anthology of poems for very young children. Polly was one of the Best New Illustrators 2008 and Book Trust's fourth writer in residence read her blog. Polly lives and works in Brighton.
Visit Polly's game of consequences