Children's Book Week for schools and libraries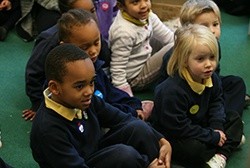 Children's Book Week 2016 runs from 31 October to 4 November
The week is all about celebrating the joys of reading for pleasure in school. Why not select a special day or spend the whole week with your pupils enjoying some great books and playing some fun activity games? It's a great way of discovering a new author, promoting the school library, and getting the kids fired up to do their own creative writing.
Creative ways to celebrate Children's Book Week
Here are some easy ways you and your pupils can celebrate Children's Book Week:
Create a cosy 'book nook': turn a corner of your classroom or library into an area where pupils can relax and enjoy reading books. The more cushions, the better! Look through our Great Books Guide for some of our favourite recent reads for children.
Tell some stories: Encouraging children to read for pleasure is about more than just getting them to pick up a book - it's equally as important to appreciate a good story. Read a book with your class at the end of each day for 20 minutes, and let them simply sit back and enjoy…
Involve parents and carers: see if you can get parents and carers to join in with Children's Book Week. You could invite them to take part in the fun of Storytime, or share a book with their child one afternoon in school.
Have a dress-up day: What better way to celebrate stories, than becoming the characters in them! Ask your pupils to dress up as their favourite character from a book. You could even let them have fun making their own outfits and props in class.
Bring a book to life: Act out one of your class's favourite books - maybe one from our Great Books Guide, such as Kitchen Disco. Let the children grab some props, musical instruments and whatever else they want out, and have some fun re-telling the story together.
Hold a book club: Set up a fun lunchtime book club, where pupils can enjoy discussing books and stories in more detail. Make it relaxed, cosy, and don't forget the snacks!
Start writing: Children's Book Week opens up lots of great opportunities for you to encourage your pupils to write. Why not suggest they write a review of their favourite book or create a character profile? If you display these in your book corner, they may go on to help other pupils looking for their next exciting book to read.
Get creative: Let your pupils get arty by drawing their favourite characters from different books, creating their own personalised bookmarks or even designing their own book covers. Get out the paints, crayons and glitter, and have some fun!
Arrange a special visitor: Children's Book Week is an ideal time to arrange for an author or illustrator to visit your school and inspire the pupils about reading and writing. More information on organising an author visit
We can't wait to see how you're celebrating Children's Book Week. Email us your photos CBW@booktrust.org.uk or tweet us @BookTrust using #ChildrensBookWeek.
Check out our Great Books Guide
Find more tips and lesson plans for teachers
Here is your guide to our favourite children's books from the past year. You can download the full guide as a PDF or find online booklists with books for the following primary school ages: 4-5, 6-7 and 8+.
Take part in this fun lesson from CBeebies and BookTrust - 'Stories by the Sea' - on different ways for primary school children to write stories.
Add a splash of colour to your library or classroom wall this Children's Book Week: just download and print these posters (there's a choice of five designs).