Homage to Libraries and Librarians… time to pen yours?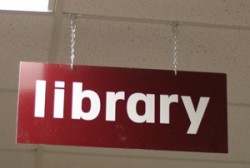 I have been thinking of places that are open to everyone and what they can do. When you really think about it, there aren't that many places that really are.
If you have five minutes I would like to give you a virtual tour in words around Wood Green Central Library in Haringey and…like all the best library visits there will be unexpected discoveries and recommendations of diverse books and authors from none other than the wonderful Sean Edwards - Books, reading and Library champion and Principal of Children and Youth Services at Wood Green Central Library.
'When a child recognises themselves or something of their own experience in a book that's inclusivity in its widest sense' (From a conversation with Sean Edwards)


Sean Edwards - Principal Librarian Children and Youth, Wood Green Library, Haringey London.
Wood Green Central Library website
Over the years working in community projects I have spoken to many people who are newly arrived in Britain about their experiences. A few weeks ago I accompanied the wonderful illustrator Jane Ray to The Islington Centre for Refugees and Migrants where she is artist in residence.
The facilitator asked a large group of people from all over the world.
'What places have you discovered here outside where you live?'
One man who had recently arrived from the Congo turned to me and said enthusiastically 'Islington Library' He thought long and hard about how to form his thoughts about the place into words in English.
'That place,' he said. 'Is where I learn to live again.'
Later he told me that he had been amazed to find such a place where he could go and take out books, but also a place where people wanted to help him in so many ways. 'This and NHS' he said 'are two things that (he pointed to a ring on his finger) I love in this country.'
Homage to Wood Green Library
There is a place where everyone can go
That is not about money
Or status
There is a place where everyone can go
That does not divide with gates or invisible barriers that when you feel their sting
Shock you
Stop you
in your tracks
Here you may hold a book
Turn a page
And find 'a place to live'
There are stories in piles, on shelves, on display, being chosen, being read
Beckoning
Over there a pile of 'Books on Prescription' Funny books to gladden the heart
Notice boards inviting steps into worlds of work, leisure, literacy, learning
On the first floor computer desks whirr, every seat occupied.
How many portals on this globe are being reached into through those screens?
A man sits in a comfy chair reading the paper, head nodding, mouldy scented sleeping bag at his feet.
A girl rehearses a job interview in slow, determined, mind full English --- every sentence a translation still.
On the second floor is story time, babies sit on parent's knees singing songs. A storyteller is at work weaving worlds in words and pictures.
Words that these young minds and hearts have not turned into language formed in any mother tongue
Yet
Tiny fingers turning picture book pages,
What is this place that welcomes everyone?
This wood of books and opportunity communing…. This green world of hope in pages turning, doors opening, arms out-reaching.
A treasure, that's what it is
A library
A precious liberty.
There are so many of us in the Children's book world who champion libraries so I thought maybe this ode to wood Green Library might catch on! Why not write a homage to your library too…and copy in your local MP. Haringey council has protected its Library services but up and down the country Library services are and have been threatened. Just up the road in Brent, Librarians and the local community have campaigned tirelessly to stop their libraries being closed in an area where young people suffer some of the highest illiteracy rates in this country.
'Library campaigners mount vigils to prevent Brent council clearing shelves' on the Guardian
It's sometimes when you see things through the eyes of those who are unfamiliar with these riches that the loss of these resources most strikes home. As the young man I met in the refugee centre expressed to me - some things about this country are just too precious to lose.
Shout out to librarians! This there is a fantastic #UKYA free Easter book hunt going on at the moment for readers to discover and win a treasure trove of new, signed books by UKYA authors. Click on: www.sitabrahmachari.com to start collecting!
Appendix!
Information too good not to share!
Visiting authors to Wood Green Library and local schools
When I was a child I would have been amazed to enter a library and find one of these wonderful writers talking about their books or an illustrator's workshop. These interactions can and do open up worlds of possibilities. Sean gave me a list of authors who have visited his library and schools in the local area on the outreach programme to talk about their books.
Giancarlo Gemin
Emily Gale
Josh Lacey
Hilton Pasley
Sam Gayton
Emma Shevah
Che Golden
Mary Hooper
Piers Torday
Melvyn Burgess
Sally Gardner
Jackie Morris
Barbara Mitchell Hill
Sophia Bennet
Jeff Norton
Sita Brahmachari
Ellie Daines
Jane Ray
Sean's Recommendations
Whenever I meet Sean he always recommends books to me and I always know that I'll find treasure in them. His last recommendations were David Almond's The Song For Ella Grey and Stay Where You Are and then Leave, John Boyne.
I put Sean on the spot and asked him to recommend off the top of his head some books that open up the world of imagination and empathy for everyone… just like the doors of Wood Green Library.
Noughts and Crosses by Malorie Blackman
Felix and Zelda Quartet by Morris Gleitzman
Skellig by David Almond
We Are All Made of Molecules by Susin Nielsen
I'll Give You the Sun by Jandy Nelson
Ken Wilson-Max books.
The Ant Colony by Jenny Valentine
A Swift Pure Cry by Siobhan Dowd
All the Bright Places by Jennifer Niven
The Art of Being Normal by Lisa Williamson
Beyond Magenta by Susan Kuklin
Maggot Moon by Sally Gardner
This Book Is Gay by James Dawson
Dream on Amber by Emma Shevah