Julia Donaldson and Axel Scheffler: A Prize-Winning Partnership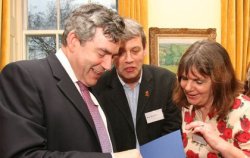 Before she began to write books, Julia Donaldson was a songwriter for children's television. The move from songs to rhyming texts seems obvious with hindsight, but the bestselling author's career could have gone in a rather different direction.
After her song A Squash and a Squeeze was turned into a book, her editor advised her to give up writing in verse.
'She said to me, "Why don't you do something more contemporary, in prose?"', says Donaldson. 'So I had about three goes at that. This editor left and another one came in and said, "Julia, why do you keep sending me these prose things? Can't you do something based on a traditional tale in rhyme?"
I was just doing what I was told! So I wrote The Gruffalo, which is based on a traditional tale, in rhyme. Once I found there was, after all, a demand for rhyme, I fell very happily into that.
Donaldson is a prolific author - she has written over 70 books - but her most popular titles have been those she has produced in partnership with illustrator Axel Scheffler.
Both author and illustrator are grateful for their success, although neither is quite sure what accounts for it. 'I suppose he just is a brilliant illustrator and they are strong stories,' says Donaldson.
'They've got good plots and language. It's probably more the combination of all those things rather than this is a partnership made in heaven. Maybe if he'd been with a different good writer and I'd been with a different good illustrator people would be saying the same thing.'
It's a mystery to me why it works so well,' says Scheffler. 'Her texts are humorous and I try to do the same in the pictures. Maybe that's what sparks it off, I don't know.
One might naturally surmise from the amount of press coverage it receives that The Gruffalo is the team's most popular book by a long way. Not so, says Donaldson.
'Parents come up to me all the time and say their favourite is The Smartest Giant in Town or Room on the Broom or Charlie Cook's Favourite Book, and I think what it is is that the journalists ask about The Gruffalo, they always have a picture of the Gruffalo, they always have a pun saying "monster hit", or something.
'The sales are almost as good with the other books - in fact at the moment The Snail and the Whale is the one that's selling the best - that's the one Gordon Brown said was his favourite. Maybe The Gruffalo is marginally the most successful.'
The latest book by Donaldson and Scheffler is Tiddler, the story of a fish whose tall tales help save his life after he strays too far from home and gets caught in a fisherman's net. The American publishers, unfamiliar with the word 'tiddler', insisted on a different title for the US market.
'They wanted me to call it Small Fry,' Donaldson says with distaste. 'I agreed to call it The Fish Who Cried Wolf. It's not really about the boy who cried wolf, so I wasn't very happy about that.'
Donaldson wrote the text for Tiddler with Scheffler in mind, but for several months wasn't sure whether or not he would accept the project. 'I was very much hoping Axel would do it. Axel took about six months to decide if he could manage to draw a fish teacher - you know, how would she hold the chalk? And until he'd worked that out in his head he wouldn't commit himself!
'And in fact the fish school is wonderful because he hasn't got any artificial artefacts. It's very much a school. And the fishes are sort of flicking sand at each other at the end of the day.'
'In Tiddler I had hoped there would be a lot of water in it which I could do with a big brush,' says Scheffler. 'But there was so much detail to work out, like the school scene, so it took longer than I anticipated. The more details there are the longer it takes, really.'
For all of the books he makes with Donaldson, Scheffler works out the content and layout of each illustration with the editor and art director, then makes small pencil sketches which are enlarged when the dummy of the book is made.
Then after another meeting, this time including Donaldson's input, he makes new pencil sketches the actual size of the artwork. 'I trace it on a lightbox, first with pencil, and then I do the black outlines with a dip pen. After that I colour it in with inks and colour pencils or crayons.
I use Ecoline - they're like liquid watercolours that come in little ink pots. Then I have two different kinds of colour pencils and I put another layer of those on top of the inks, and a bit of white gouache.
I'm not very good at composing pictures, doing something spatial - it's all very flat. I can only do one view - side view, more or less. Some illustrators are good at bringing depth to their pictures, having foregrounds and backgrounds, but that's not really my strength.
'It was quite hard to do all the different fishes, but (publisher) Allison Green's assistant did a little folder with all the fishes so I didn't have to look them all up. It was quite difficult because they were very specific. I had to be very close to what Julia had chosen. There's a Gruffalo fish - that's obviously not from the reference!
'In a way I would have liked it to look more underwatery and more blue. I think it would have been nice to have been more atmospheric, like the underwater programmes you see on TV. But I think it works fine like it is. I think it works as a book.'
Scheffler, a perfectionist, is often dissatisfied with his work. He admits to having had difficulty with some of his most popular creations. 'With The Gruffalo, I had a terribly hard time. I didn't enjoy drawing it at all. And also with Room on the Broom. It was the stormy skies and my inks not doing what I wanted them to do. Although usually the editor says it's really lovely and wonderful.'

Following the publication of Tiddler, the duo have already moved on to their next project: Stickman, which was inspired by the stick doll that the Gruffalo's child carries.
'That's going to be a bit simpler,' says Donaldson. 'It works that some of them just come out older or younger. I might have in mind that I'd like to do something simple, but when I start writing it it will just come out the way it's going to be.'
Scheffler describes the illustrations for Stickman as 'straightforward', but expects there will be some discussion with the Americans about this book, too. 'I've drawn a small child on a beach with a bare bum, and already on the sketches we think, do we need to ask the Americans if they will let us get away with it. I find it annoying, but I don't want to be provocative just for the sake of it. It's not crucial to the story so I might change it.'
'It took me a while to warm up to the character Stickman, to make him work,' he says. 'Stickman is a great text. I think it's going to be nice.'
Julia Donaldson
Julia Donaldson is one of today's most popular writers. Her bestselling titles include The Gruffalo, The Gruffalo's Child and Room on the Broom. Although she is best-known for her picture books, Julia also writes longer novels, plays and songs. She lives in Glasgow and spends a lot of time on stage performing her brilliant sell-out singalong shows!
Julia Donaldson is the Children's Laureate 2011-13.
Axel Scheffler
Axel was born in Hamburg, Germany. At school he was good at art, but didn't think of a career in illustration until he won a cuddly purple cow in a drawing competition. He moved to England in 1982 to study illustration at the Bath Academy of Art, and then set up home in London.
He was the illustrator for Julia Donaldson's first picture book, A Squash and a Squeeze - the start of a hugely successful partnership. Their bestselling modern classic, The Gruffalo, has sold millions of copies. His books have been translated into 42 languages.
Related books