Get tickets for YALC 2015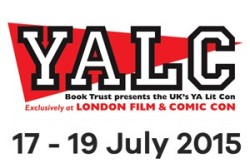 Availability
Saturday, Sunday and Weekend tickets are now sold out!
There are still a few Friday tickets available.
What do you get with a YALC ticket?
Your YALC ticket will give you early bird entry to the YALC area at the London Film and Comic Convention (LFCC). This is from 1 pm on Friday and from 9 am on Saturday and Sunday. Normal LFCC ticketholders will have entry from 3 pm on Friday and 11 am on Saturday and Sunday.
You will also get priority access to all events on our main YALC stage. While stocks last, you will also receive an exclusive YALC tote bag stuffed with publishers' goodies!
What do YALC tickets cost?
YALC tickets cost:
Friday day ticket - £14
Saturday day ticket - £20
Sunday day ticket - £17
Weekend ticket - £46
Educational groups of more than 20 people may qualify for a group discount on YALC tickets. Please contact yalc@booktrust.org.uk if you are interested in making a group booking.
If you have any more questions, please read our Ticket FAQs.
Buy your tickets
You can buy your tickets online on the London Film and Comic Con ticket shop.
The full programme is now available!
Find out which authors are taking part, what's happening on which day, and what workshops you can take part in!