YALC 2014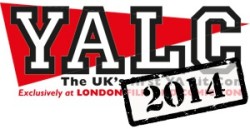 The first UK Young Adult Literature Convention (YALC) took place at the London Film and Comic Con from 12-13 July 2014.
YALC formed a key part of Malorie Blackman's wider campaign to champion books for young people throughout her two years as Children's Laureate.
The event brought together over 50 leading YA authors for a programme of talks, workshops and signings, a bookshop provided by Waterstones and publisher stands promoting new and upcoming titles. The event was the first large-scale public literature convention dedicated entirely to teen and young adult books ever to be hosted in the UK, and saw thousands of young people attending a weekend of events celebrating reading.
Find out more about the 2014 YALC programme
Photograph by Rowan Spray
Malorie Blackman said:
We are incredibly lucky to have such a wealth of fantastic children's authors and illustrators in this country who create incredible stories for young adults to enjoy. It's so important to encourage, sustain and where necessary instil a love of reading in our teenagers. Reading opens doors and creates life opportunities. That's why I want to do my utmost to promote YA books for all our young (and older!) readers.
YALC 2014 was supported by Prudential plc and the Authors Licensing and Collecting Society.
The Young Adult Literature Convention returned to the London Film and Comic Con in July, 2015.
Watch videos from this year's event and see what you missed.